VLAND LED Tail lights For 2015-2021 Volkswagen Golf 7 MK7 MK7.5 Fits Hatchback
Fitment:
Fit For Volkswagen VW Golf MK7 MK7.5 2013 2014 2015 2016 2017 2018 2019 2020 2021 (Compatible with Hatchback only).
Note: For GTI/R models, you need to purchase additional wiring harness and decode the vehicle (with OBD11 or similar), related tutorials you can find them on YouTube.
Model years:
2013–2016(MK7), 2017-2020(MK7.5) (Europe)
2015–2017(MK7), 2018-2021(MK7.5) (North America)
Certification: E-mark(E32).
There is a waterproof pad on the back of the tail lights, please seal the waterproof pad and make sure there is no gap to avoid moisture when installing the tail lights.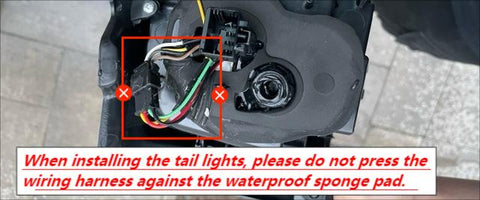 Item Features:
Selectable colors: Smoked / Red
Running Light: LED (Red)
Brake Light: LED (Red)
Reverse Light: LED (Diamond White)
Fog Lights: LED (Red)
Turn Signals: LED (Amber. With Sequential Indicators).

The items have the same connections and wires with the original taillights. It is plug and play(European Edition), easy to install still professional installation is recommended.

Package Includes:
One pair of Tail lamps include left and right side.

Warranty:
Manufacturer warranty of one year from the date of purchase.

Manufacturer Part Number:
YAB-GEF-2035
OEM Part Number
R:5G0945094M; R:5G0945096; L:5G0945093M; L:5G0945095